The recovery of voluntary arm movements is one of the most important goals during stroke rehabilitation in order to avoid long-term disability in activities of daily living (ADL), social and occupational activities, and depression. The aim of rehabilitation is to reduce impairment and minimize disability and a number of interventions to achieve these aims and improve arm function have been suggested.
Since the large number of stroke survivors results in a high social and economical burden, and patients often experience difficulties to move to the rehabilitation centers, the home-rehabilitation approach represents a valuable solution to be persecuted. Moreover, home-based rehabilitation has been increasingly addressed during the last years showing promising results in terms of feasibility and impact on recovery.
Ab.Acus developed the home-based telerehabilitation suites approach that takes advantage of daily living objects and Wireless Identification Technology, to enhance the effectiveness of the therapy. The innovation of this new approach lies in the possibility to use the patient's own daily objects for the rehabilitation, improving acceptance and motivation of the therapy. This is the concept of smart objects, that allow to adapt the rehabilitation therapy to the patient's daily living environment and activities.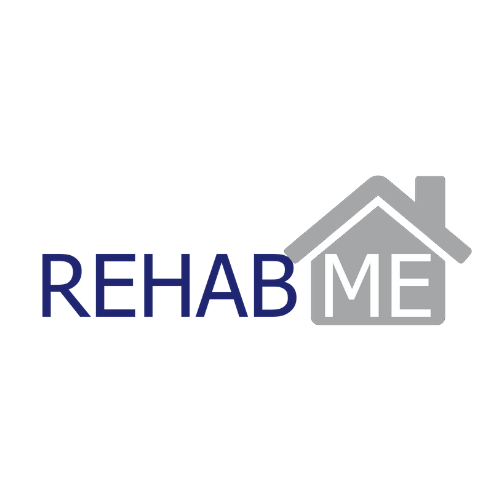 Matching real life for getting real results
RehabMe is a telerehabilitation system that exploits the RF technology to transform daily life objects into rehabilitation tools, and daily life activities into effective exercises.
RehabMe guides the patient through the execution of tasks mimicking functional activities, automatically detects their correct execution, and computes and stores performance indexes.
This approach is designed to maximize the patients engagement by proposing real life activities, to empower the patient in accomplishing functional tasks, and to tailor the therapy on each patient's needs and habits.
Empowering the therapist, empowering the patient
Our system does not substitute the therapists, but provides them a tool to care the patients more efficiently. For this reason, RehabMe not only has been designed together with clinicians, but is guarantees the maximum freedom to operate.
The therapists can design and create new exercises to match each patient's needs specifically.
Exercising tools can be chosen among the patient own objects, exercise composition, duration and intensity can be set in every moment.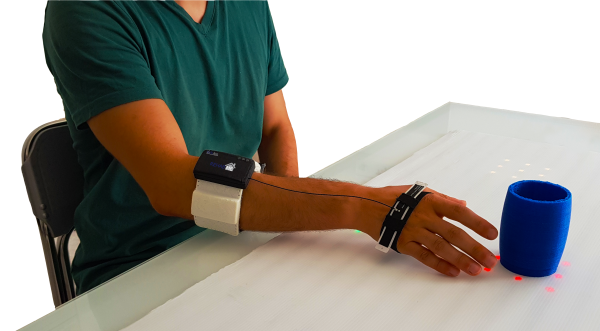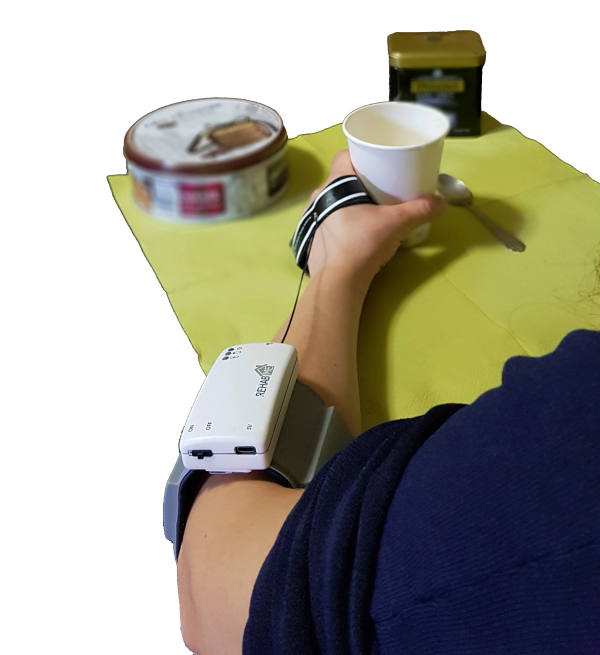 Full design and personalization of exercises
An intuitive graphical user interface allows the therapist to design new exercises specifically tailored on the patient's needs and habits

Combining technology with everyday objects
RehabMe exploits latest advances in information and communication technologies to make patient's own objects transparent smart rehabilitation tools.

Reliable performance measures
Novel algorithms for extracting quantitative indexes and parameters allow the evaluation of the performances during the exercises execution.

Remote management of the patient
The data collected and elaborated during the rehabilitation sessions are available for the therapist to evaluate.
References
Baccinelli, W.; Molteni, F.; Bulgheroni, M. Smart Objects in Rehabilitation. In Proceedings of the Converging Clinical and Engineering Research on Neurorehabilitation III; Masia, L., Micera, S., Akay, M., Pons, J.L., Eds.; Springer International Publishing: Cham, 2019; pp. 12–15.
Baccinelli, W.; Bulgheroni, M.; Farinelli, V.; Frigo, C.A. Estimating hand kinematics in reaching tasks using RFID. A preliminary study. In Proceedings of the 2019 7th E-Health and Bioengineering Conference, EHB 2019; Iasi, 2019.
Baccinelli, W.; Bulgheroni, M.; Frigo, C.A. Development and first evaluation of a RF-based rehabilitation system. 2020 IEEE Int. Symp. Med. Meas. Appl. 2020, 1–5. Doi: 10.1109/MeMeA49120.2020.9137319
Baccinelli, W.; Bulgheroni, M.; Frigo, C.A. Using UHF RFID Properties to Develop and Optimize an Upper-Limb Rehabilitation System. Sensors 2020, 20, 3224.