Project Description
REELER – Responsible Ethical Learning with Robotics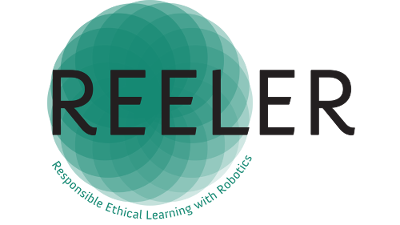 The REELER project aims at aligning the roboticists' visions of a future with robots with empirically-based knowledge of human needs and societal concerns. Based on extensive robotics/SSH-RRI collaboration, it offers proactive steps towards ethical and responsible robots by suggesting radical changes in current robot design procedures.
Moreover, this project formulated guidelines in the REELER Roadmap for distributed responsibility among roboticists, users/affected stakeholders and policy-makers by closing the current gap between these. At the core of these guidelines is the concept of collaborative learning which permeates all aspects of REELER and guides future SSH-ICT research.
The main outcomes of REELER are:
a) the REELER roadmap, a repository of research findings and tools;
b) the REELER interactive toolbox, an interactive website to learn the basic themes for a responsible robotic design;
c) BuildBot, a desk game for better understanding relationships between end users and robot designers.
References
Sorenson J, Zawieska K, Vermeulen B, Madsen S, Trentemøller S, Pika A, Bulgheroni M, Richardson K, Hasse C, Perspectives on Robots: A reality check on imagined futures, book, ed. Aarhus University, SN  – 978-87-7684-548-3
Zawieska, K.; Vermuelen, B. Roboethics as a Research Puzzle. In Proceedings of the 2019 14th ACM/IEEE International Conference on Human-Robot Interaction (HRI); IEEE, 2019; pp. 612–613.
Hasse, C.; Trentemøller, S.; Sorenson, J. Special Issue on Ethnography in Human-Robot Interaction Research. Paladyn, J. Behav. Robot. 2019, 10, 180–181.
Hasse, C. How robots challenge institutional practices. Learn. Cult. Soc. Interact. 2020, 26, 100223.